Case Studies
Here are some examples of our work:
(Click on images for more detail)
Supreme Cleaning – How to descale a sink
Videolabz produced a simple but effective video on how to descale a sink. Since uploading it, the video is ranking at number one position on Google's main page, Google Video and You Tube. That's 100% number one ranking across the top search engines.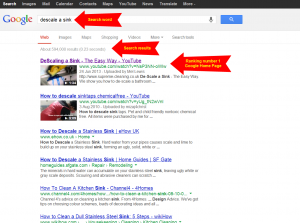 Supreme Cleaning:
Supreme-cleaning.co.uk are based in Dartford, London. Videolabz produced a dynamic 'How-to' video on location. Within a short time of uploading, the video started to dominate the You Tube rankings with two placement on You Tube. The videos continue to climb up the rankings and ranks consistently at number 2 position on Google Videos.