Trial Package Normally £1500 Reduced to £800 with our offer
Our Trial Package is designed to get your business performing better and rising up the search engine rankings, so that when people search for your company, services or products, you come up on the first page of Google, Yahoo, Bing etc.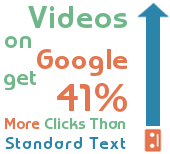 Outstanding value, our entry level SME package gives you an insight and taster of our bigger Enterprise package. Simply put, we will do a word search to get the key search terms for your business.
Then we will create 3 fully optimised videos around those words, upload them for you, maintain them for two months and run full analytics around them so you can see how effective they have been and monitor the improvement in your business.
From then you have 3 options: either opt in for our Enterprise Package and we deduct the cost of the SME package from that; Walk away and do nothing and just enjoy the benefits that our SME package already brought you; or if you have not had any success from our SME package within 2 months, we will give you your money back…we can't be fairer than that.
Trial Package Includes:
Our full Free digital Analysis of your site and digital activity – see here.
Research of Keywords and Search Terms
Create 3 optimised Videos including: see here
Full analytics
Reporting of all activity across videos and other digital activity
Maintenance and optimisation for 2 months following uploading
Option after 2 months to:

Upgrade to our Enterprise package
Walk away and just enjoy the benefits already won by the videos and optimisation
Get a full refund if there has been no increase in your ranking or direct benefit from the package.
Click here to upgrade to our Enterprise package.
For more information call 020 8207 3815 or complete the form below and redeem your voucher or get more information:
[contact-form-7 id="97″ title="Contact form 1″]