Production
OK, so we have a concept, we have a storyboard, we are optimised and ready to shoot. But just uploading video after video will not do very much for you.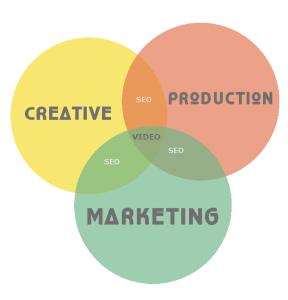 The way videos are produced is critical to their optimisation and their ultimate ranking in the search engines, be it You Tube, Google, Yahoo or whatever. Considerations like embedded content, what your response mechanism is, how you want to engage with your audience, and how it is optimised for different media are all key issues for consideration. There are many more options these days that are growing so quickly. Mobile video audiences have grown by 262 percent in the last 12 months (Comscore 2013). In fact page views from Non-PCs reached an all-time high with nearly 1/3 of all UK page views now coming from mobiles and tablets. So the video needs to be easily viewable on all mobile devices, Ipads, tablets etc.
We also need to consider social networking at this stage. Will the video be suitable to run in the plethora of sites now reaching out to us. Facebook remains the leading social network in the UK, capturing the largest amount of unique visitors. However, there are some rising stars on the horizon – Tumblr, Instagram, Pinterest and Goodreads – that have all witnessed strong growth rates over the year across both PC and mobile, so it is important to include these and make sure your videos are friendly and optimised for these too.